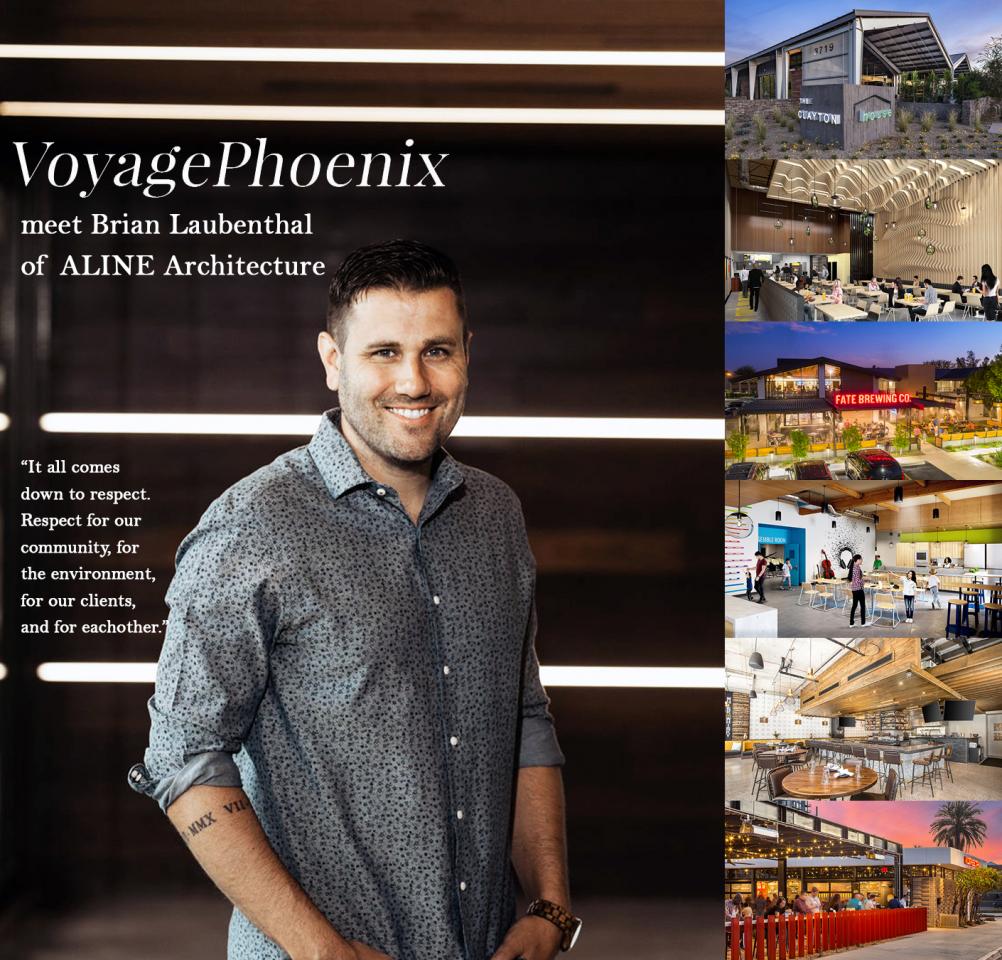 Today we'd like to introduce you to Brian Laubenthal.
Can you briefly walk us through your story – how you started and how you got to where you are today. You can include as little or as much detail as you'd like.
ALINE Architecture Concepts.
I started ALINE at the beginning of 2010 with my good friend and colleague, Brian Krob. At that time, we were in the middle of the recession with very little architecture happening. We started by getting ourselves in front of as many people as possible, knowing if we reached out to others, they would reach back out to us when needed. We also had the experience to develop projects, but we didn't have experience in developing a business. So, one of our first steps was meeting with our mentors and the architects we respected most in the industry. We asked them all the same question: "What was successful and what failed?" Their recommendations included focusing the business on what we do best, build a strong network, and to constantly reevaluate your progress and goals. Leaning on their experience and guidance helped us make educated business choices.
So much of our approach to business has also been inspired by our distaste for some of the industry norms. For example, we chose the name ALINE—not our own names—because a project's success isn't due to just the principals of a company, but rather the entire team of people who work on every step of the journey. ALINE is a play on the words "align," meaning "to give support to," and "a line" signifies the singular mark in a process that's needed to start and create something whole. Finally, we wanted to break the employee norm of working long hours and, quite frankly, being mistreated and undervalued. We want to support, nurture, honor, and reward our team. We want to celebrate everyone involved.
We know that the guidance and support we received in the beginning has helped our success and growth over 10 years. We still meet with, listen, and ask questions with many of the same mentors, we are still reaching out to create awareness of our brand, still building and expanding a local network of support, still refining our services, and every year we reassess our progress and goals.
Tell us about your business/company. What do you do, what do you specialize in, what are you known for, etc. What are you most proud of as a company? What sets you apart from others?
ALINE is an architecture firm that is driven by a mission to craft meaningful environments that inspire people and their communities. We've been fortunate to work on hundreds of commercial and residential projects throughout the Valley, including more than 150 restaurants.
I believe what sets us apart is the value we place on craft, community, and collaboration. We promise all of our clients and partners an honest and transparent experience while capturing their vision through creative and practical design
CRAFT.
Architecture is not just our job. It's our passion. We all have the highest respect for our craft and we strive to hone it each and every day. We believe great architecture is stripped to its essence—that it celebrates raw and local materials while highlighting unique details, not hiding them. We approach our work with a discerning eye for balance in design, on everything from the actual structure down to the landscaping, finishes and systems. We find fresh ways to honor the architecture's history by updating materials that are local and sustainable, and those that we know will have a better, longer-standing performance over time.
COMMUNITY.
We want to support local on every scale; environment, people, products, and materials. We love when our work can contribute to a positive impact within our community, whether that means transforming a building into a new neighborhood hub, donating our time and services to a worthy local cause, or supporting and collaborating with local businesses. Currently, we are working with Rosie's House, a local nonprofit that gives underserved children the opportunity to learn and play music, by donating our time to remodel their building near Downtown Phoenix. In this project, we are dedicated to working with local artists, tradesmen, manufacturers, material suppliers and engineers.
COLLABORATION.
Over the past 10 years, we've built a strong network of reps, consultants, contractors and craftspeople that all believe in this same approach. We work closely with them to create holistic spaces that are integrated and cohesive in every way. To respect our craft means that we must respect the craft of others as well. We never claim to do it all and we're supportive of the incredible people involved.
At the end of the day, it's all about respect. Our greatest reward is working with clients and professionals who exude just as much passion for the craft, quality, and people of their own industry as we do for architecture.
Has it been a smooth road? If not, what were some of the struggles along the way?
Business started as a rollercoaster, but by learning and growing each year we've learned to better control and enjoy the ride. At times you are very busy, and other times very slow. At times your projects are successful and enjoyable, other times they have issues and frustrations. We had to learn patience and to focus on the great things happening, not what we thought were issues. Most people who go into business are expecting and wanting their ideal clients, success, and money to happen quickly. It doesn't work that way. If you want to build a successful and sustainable business you must constantly refine it, learn from mistakes, and build upon each success. For us business has been a good, steady incline of growth and profits each year. We started from scratch so we had to learn how to make the low budget, fast projects happen successfully first, then over the years the new clients who saw our efforts, honesty and good work started having higher budgets, better timelines and more reasonable expectations. Then, with our experience, we started defining what budgets, timelines and expectations are needed upfront to vet the clients and projects. Now, when we meet with clients, we can quickly assemble estimates, full project schedules and educate them on the process needed for a successful project.
Where do you see your industry going over the next 5-10 years? Any big shifts, changes, trends, etc?
We see architecture as an evolving profession. You absolutely must embrace technology. We just completed the design of Broth and Bao, a new restaurant in Scottsdale, where we developed a parametric ceiling and wall design in collaboration with our local millwork partner, Lion Craft. We used a parametric software to develop a model where we defined the overall shapes by selecting different points of the ceiling and wall. Then the program creates a digital template and feeds the information to a CNC machine that cuts out each of the individual pieces. The process time is less, we can get accurate information and cuts, be very efficient with materials to limit waste, and provide clients with cost options during the design process. We are also utilizing 3D printing and working with a local group to recycle plastic for the printer's filament. Right now, we are developing a planter module that can be hung and connected together creating a screen wall all made from repurposed plastic. So, not only is the technology within our office changing, but the way we're collaborating on projects within our network is evolving, too.
Original article is available here: http://voyagephoenix.com/interview/meet-brian-laubenthal-aline-architecture-concepts-scottsdale/