August 30th, 2020 12:00am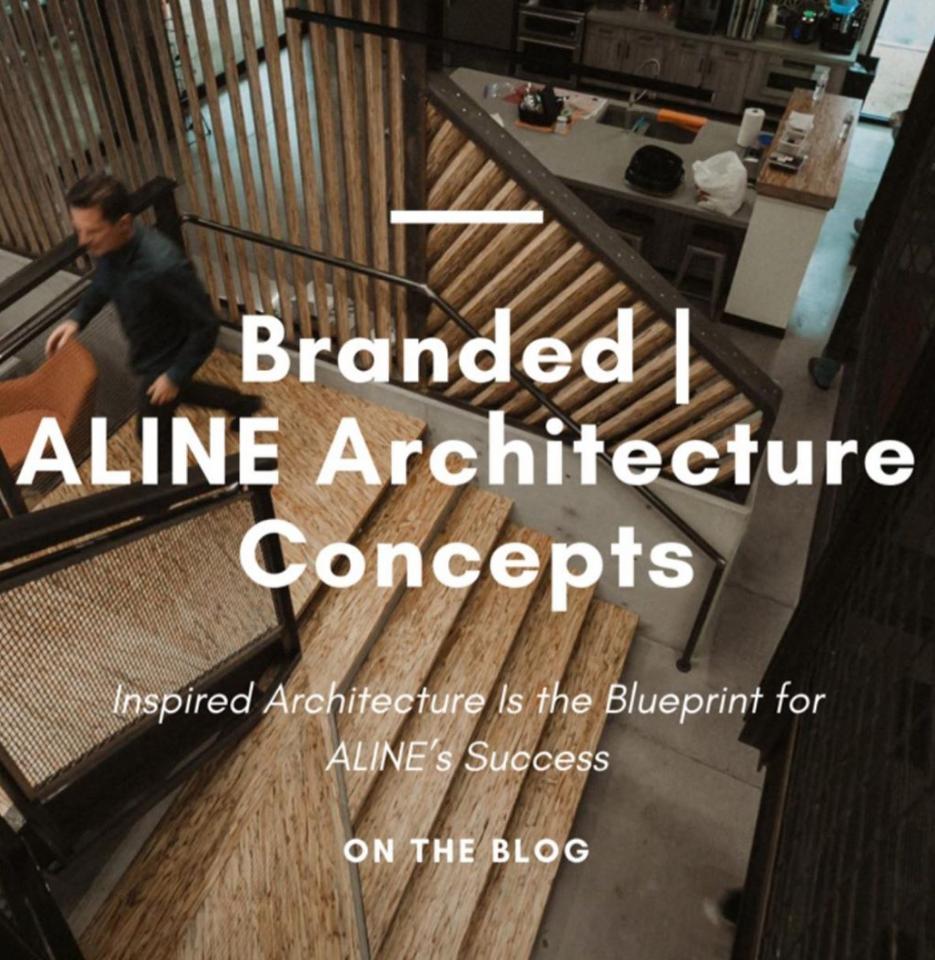 Branded | Inspired Architecture Is the Blueprint for ALINE's Success
When you walk up to a building, your experience can read like a book's cover page. An unknown mystery whose story lies within. Every building has its own story, and ALINE Architecture Concepts helps you develop the narrative.
For the full blog and other amazing stories visit Rachel Smak's Blog
Listening as Brian Laubenthal, one of the two Brian-named founders of ALINE, describes his firm's history, I can feel just how deeply architectural theory resonates within both his business and his life. I scribble notes furiously as he talks about it, hoping to do justice to the story and the company he's been building for ten years.
When you look at ALINE's work, it's easy to see how their projects stand out from their competitors. When I moved to Arizona, the one thing that stood out to me was how so many of the structures here felt more like manufactured build-outs than spaces with a story. Most buildings miss the details and history it takes to give the anatomy of these places character. I missed cobblestone streets and turn-of-the-century buildings and architecture that was older than I was. But all of ALINE's concepts infuse the pieces of architecture that most of Arizona misses. Laubenthal and Krob (the two Brians) plus their team see the perfection in the imperfect details, buildings so alive with history that you can almost hear the voices of those that stood in the same spot years and sometimes centuries before you.
It was almost fated that I met Laubenthal through a "Design It Forward Challenge" that House of Form was hosting. That single networking event has since helped me form some lasting partnerships in my industry, including eventually co-officing with Dala Al-Fuwaires of House of Form and Rani Sweis of AtticSalt. The AtticSalt team happened to design ALINE's logo, print collateral, and complete brand identity. You can see their case study highlighting all the work they did on ALINE's Brand here.
We were keeping busy one Wednesday, Rani with an AtticSalt branding proposal, Dala and her team on their latest interior design project, and me catching up on client emails when Laubenthal sauntered in. Laubenthal often popped into the small but humble office that was right below his, to say hello, and catch up with his Industry friends, and on that day, we hit it off instantly. Between our shared sharp-casual style and love for dark and moody design, we realized that a collaboration between the two of us was meant to be.
Brian is a gifted storyteller when it comes to talking about ALINE; however, he sought help from me to translate the story of ALINE into branded images that genuinely captured his firm's essence. He already had stunning photos of his completed projects and the brand identity and logo designed from Attic Salt that took the existing lower case font and grew it up a bit by capitalizing each of the letters in the name. But Laubenthal and his counterpart Krob were missing the visual imagery that highlighted the heart of their business in a way that surpassed the buildings themselves.
To translate both Brians' vision into reality, I dove into the mindset of being a partner at their firm. A firm that acts more like a family than a group of coworkers. Small details like coffee cups filled to the brim and Laubenthal's timeless wooden watch were what I imagined clients and employees associate with ALINE. To embody the collaborative spirit of ALINE, we chose to shoot at ALINE's favorite concepts. We invited friends, family, and clients into the shoot to make their images as authentic as their structures.
This is how the magic happens. Lucky for me, the ALINE team was so comfortable with each other, translating it through my lens was easy. I just let their personalities and natural work ethic shine. I think that comfortability comes a lot from the environment Laubenthal and Krob are working hard to create in their concepts and in their team camaraderie.
We took ALINE's brand story past just their projects and through their days at the office, with a session at Pitch Pizzeria and Fate Brewing Co. Each location was designed by the firm, keeping it on-brand and familiar to all. Seeing both of the Brians' families at the shoot is what brought it all together for me. The way they treat their employees, and each other makes their brand values transparent. Behind all they do together, people and community are the priority.
"Architecture is just there to serve a bigger picture," is one of those statements that just stood out during our time together. ALINE Architecture embodies more than only the finished projects. It revolves around the people and the process of building, reading much more like a story than a portfolio.
This is what true craftsmanship looks like, Brian and Brian centering their attention to inspire people through their work and staying true to their community by helping the environment. It's out of great respect for their surroundings that runs throughout ALINE's work, whether it is the people that will use his spaces or the preservation of older structures on the site. "Adaptive reuse" is what they call it, a term I think hits the nail on the head.
I caught up after the shoot, reminiscing about that chance encounter with Laubenthal at the quaint coffee shop conveniently located near our offices. Regroup Coffee, for those who haven't been, is the perfect solution to specialty caffeine and organic food offerings that are locally sourced, fair-trade, and "better for you" as I'm learning from Laubenthal. We continued our conversation about what separates ALINE from everyone else and how both Brians' got their start in Architecture. As I sip my lavender latte, Laubenthal reconstructed the bigger picture and ALINE's history for me.
Chuckling, he reminisced on how he met the other Brian (Krob) during his days at Arizona State University. Laubenthal had taken an internship at Haze, where he met Krob through all his four years of college. But looking back at the experience, Laubenthal recalls how it wasn't a pleasant one, and he admitted having a pit in his stomach every day he went into the office. He accepts he learned more about what he didn't want to do in architecture than what he did during Haze.
Meeting Krob was probably the single best thing about that internship for Laubenthal, and the two stayed close after Laubenthal left to join KD Architecture as a lead project manager.
Years passed, and the two Brians' wouldn't reunite until a series of unfortunate and tragic events found the owner of KD Architecture with cancer. As the firm started letting people go, Laubenthal stepped up until eventually all that remained was him and the owner's wife, who was doing admin.
"It was a struggle," he remembers when he thinks back to that time, and how the last three to four months he was by himself every day.
In 2009, Krob, who was also unhappy working at Haze, came on to help Laubenthal salvage what was left of KD Architecture. The book of business was sparse, and when the owner eventually passed away, both Brians' took it as a sign to open up their firm.
They took what was left, a few folding tables, and chairs, and a couple of computers and two loyal accounts Laubenthal had nurtured and started ALINE.
"We started in the 2010 recession and built our business from nothing," he states, sipping a cold brew coffee and weaving in barren construction sites' imagery. Laubenthal takes me through the journey of taking an architectural project from start to finish the same way he reveals his journey as a business owner. Some things don't always go as planned, like a contractor falling through or a personal life event, but perspective is everything.
As a co-founder of ALINE, Krob, an ASU graduate with his Master's at UCLA, helped transform the ALINE vision into full fruition. His desire to develop spaces mindfully, weighing energy and water consumption issues, and finding ways to repurpose structures to reduce cost and materials helped shape ALINE into what it is today.
"So much of our approach to business has also been inspired by our distaste for some industry norms," Laubenthal adds when I probe deeper during our meeting at Regroup Coffee.
"For example, we chose the name ALINE-not our names-because a project's success isn't due to just the principals of a company, but rather the entire team of people who work on every step of the journey."
He continues to share the meaning behind the name, "ALINE is a play on words "align," meaning "to give support to," and "a line" signifies the singular mark in a process that's needed to start and create something whole. Finally, we wanted to break the employee norm of working long hours and, quite frankly, being mistreated and undervalued. We want to support, nurture, honor, and reward our team. We want to celebrate everyone involved."
It's a critical mission and one that's driven by their mission to craft meaningful environments and meaningful experiences that inspire people and their communities. To date, ALINE has been fortunate to work on hundreds of commercial and residential projects throughout the Valley, including more than 150 restaurants.
"I believe what sets us apart is the value we place on craft, community, and collaboration. We promise all of our clients and partners an honest and transparent experience while capturing their vision through creative and practical design."
Looking through their work, it shows.
When I ask Laubenthal how COVID has affected ALINE, he shares that it's made his company more durable in many ways. "2020 was a slap in the face, but the best push forward," he tells me. His office is now his dining room table, and he juggles meetings between homeschooling his two boys (his wife Kristi is a nurse and an essential employee right now).
Through it all, he's found more work-life balance, the social aspects of the office are lacking, but the group still gets together for zoom calls, and overall they feel they've refined a system that's kept them all efficient.
"We don't micromanage our team, we've built a pretty great one, and it's because of how much responsibility each of the team takes on that makes that freedom possible. Microsoft teams and Skype have made us more efficient, and I love that I have time to play hide and seek with my boys and that Krob has more time to build lego dollhouses with his two girls. And when Heidi's sister went into labor, she was able to take the rest of the day off to be with her for that experience. That's the kind of company environment we're building here at ALINE."
It's a business built on impact and not the money. Because for both Brians' and their team, creating a legacy that their community and their children can be proud of is what it's all about. It's not about the biggest team or the biggest projects. Laubenthal lets me know they just turned down a 9 million dollar project recently because it went against their values of supporting social change and making a positive impact on the environment but the community of people who dwell there.
Inspired architecture is about listening carefully to their surroundings. It's fueled by deeply understanding people's needs and then crafting a positive solution to those challenges using their talent, skillset, and the materials nature has provided them.
This is their formula and the blueprint behind everything they do.