September 11th, 2023 12:00am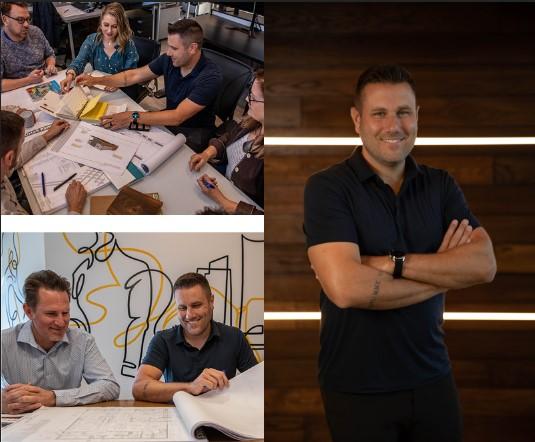 Check out Brian's recent conversation with Bold Journey!
---
We were lucky to catch up with Brian Laubenthal recently and have shared our conversation below.
Hi Brian, really happy you were able to join us today and we're looking forward to sharing your story and insights with our readers. Let's start with the heart of it all – purpose. How did you find your purpose?
I found my purpose at a young age. I just didn't realize it until I was much older. Throughout my life, I've been given the compliment that I listen. At first, I didn't know it was a compliment, but over time I realized others would push their own agendas rather than understanding the needs asked for. In 7th grade I was asked to write a paper on what I would be when I grew up and how it would help the world. The topic struck me and became a very serious moment in a 7th grader's life. Suddenly I had to think about "The Future" and where I fit in. I took a moment to listen to myself and what really mattered to me. I cared about making a better world by stopping pollution and helping others in need, but what career could solve this? I had recently been to Frank Lloyd Wright's Taliesin East and bought a book about the home he designed called Fallingwater. My favorite movie was also Swiss Family Robinson because of the cool treehouse they lived in. Architecture was an instant passion of mine, and I chose to make it my purpose to help our environment and our community by using architecture as my medium. After many years of school, internships, degrees, and pursuing my passion for architecture, I stopped one day and thought about the paper I wrote as a kid. Then I looked at the business I helped create, the many pro-bono projects for non-profits to help people in need, and all the environmental design accomplishments we have achieved. That's when I knew I was still listening to the kid who wanted to make a difference.
Great, so let's take a few minutes and cover your story. What should folks know about you and what you do?
When my business partner and I started ALINE Architecture we knew it had to be something special. We wanted to create something different from the other firms and instill a different take on architectural culture. If you have a master's degree in architecture, then I can bet you had a professor who wore all black clothes and even thick black framed glasses (that probably were not prescribed, but more for professional aesthetic)… the professor who pushed what architecture is and taught us that as professionals, we need to tell clients what good design is. Blah blah blah. The same dillweed who also told us when we started working in architecture, we would not be paid well, would not be treated well, would be forced to work unpaid overtime, and made it clear that architecture would suck all the color from our lives (and apparently our clothing choices too!) These types of architects set the stage for how many expect architects to act and look. While I have a distaste for this stereotype I, like Batman, do on occasion like to wear black… or really really dark grey. But I love some color too. At ALINE, we pride ourselves on being approachable, listening to our clients, caring about their needs, budget, and ability to sleep well. We believe architecture is a collaboration of many and together we can craft something amazing. That's why our company name is ALINE and not our last names. A play on Align, definition 'to support,' and A LINE, a mark in the creative process. I love what our firm stands for, the many people who have helped us create it, and how we're using our company culture to set the new stereotype of architecture.
There is so much advice out there about all the different skills and qualities folks need to develop in order to succeed in today's highly competitive environment and often it can feel overwhelming. So, if we had to break it down to just the three that matter most, which three skills or qualities would you focus on?
Three important qualities I believe helped me get to where I am, and I want to instill in my two boys are persistence, character, and communication. As a kid, I was told several times by my parents and others that I am persistent! If there is something I wanted to accomplish, I wasn't going to stop. If there was something I struggled with, I would work at it until I could figure it out. I didn't know how to start an architecture firm, but that challenge and the many others I've encountered since haven't stopped me. I have grown from failures and celebrated accomplishments – while always pushing to do better.
The second quality is character — having strong mental and moral qualities that I stand for and believe in. I have always set my standard high for being a good person, helping others before myself, being kind, respectful, and always showing appreciation. When you have a good and strong character, it is like a magnet, and others who share similar characteristics are drawn to you. Character is also about understanding others and surrounding yourself with people who will support you and lift you higher while you do the same for them.
The third quality is communication. This is one that has taken me all my life to develop and is still a work in progress (persistence!). Communicating clear goals and expectations, confronting a situation to steer it in the right direction, and expressing my thoughts and values are very important. I have learned that if you don't speak up, you get lost in the echo of voices over you. If you can't live with telling others your value and thoughts, you may live with resentment. As an intern, I sat in so many meetings where I was too afraid to speak up, but then someone else would say what was on my mind and my chance for input was lost. I made the decision when we started ALINE that we would speak up, set clear expectations with clients, communicate clearly and effectively with clients and our team, and be heard in our community.
How would you describe your ideal client?
Our ideal client? We have a few. The local restaurateur or chef ready to renovate an existing restaurant or craft a new location with bold design. The developer who's excited to create a buzzworthy destination and amenity for the community. The owner of an existing building who wants to reimagine the space and breathe in new life and presence. The entrepreneur who envisions an office they can't wait to work in each day. The homeowner who is ready for an amazing space to live the life of their dreams. While our clients have different goals and visions, they all share our passion for craft, the environment, and projects that help build community and make life better! We take pride in collaborating with our clients to design spaces that make an impact (and take the wrinkles out of their forehead during the process because we manage the entire process from concept to completion!)
Contact Info:
Image Credits
Stephanie Slezak Photography